PRESS RELEASE: Photo Banner Coming to Boston's Seaport District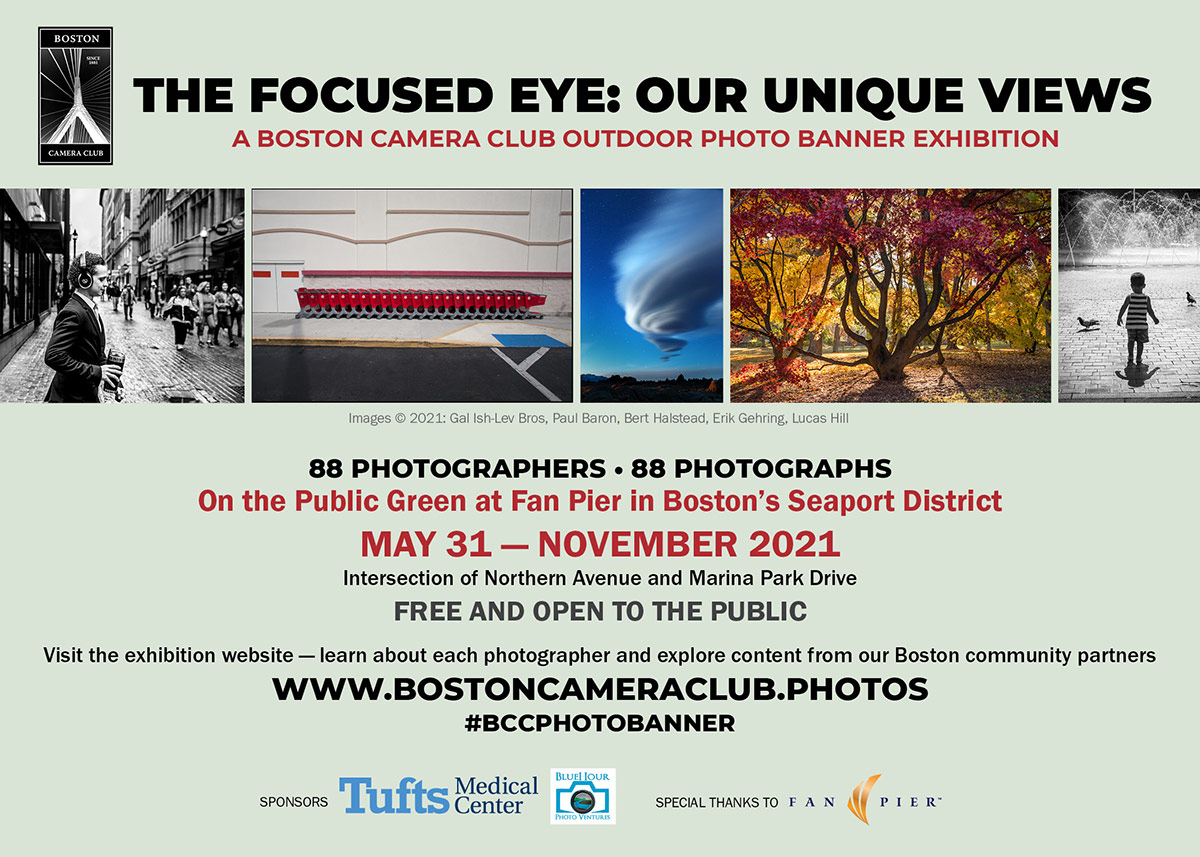 Experience The Focused Eye: Our Unique Views
A 250-ft Long Photo Exhibition at Fan Pier
The Boston Camera Club invites the public to view 88 large-scale photographs displayed in a series along an entire city block at Fan Pier on the Public Green in Boston's Seaport District
Free and open to the public from Memorial Day weekend through November 2021
May 17, 2021 – BOSTON, MA – The Boston Camera Club this week announced The Focused Eye: Our Unique Views, an outdoor photography exhibition on the Public Green at Fan Pier in Boston's bustling Seaport District. Spanning an entire city block at Northern Avenue and Marina Park Drive, the photo banner exhibition will run from Memorial Day weekend through November 2021.

For the first time in the club's history, the imagery of BCC members will be on display outdoors in an immersive exhibition featuring 88 images printed on a large-scale banner, 5-feet high and 250-feet long. One image from each participating member's submissions was selected, and expertly sequenced by curator Emily Belz. Each image speaks to the next by subject, color, composition or use of light to form a bridge, creating a compelling visual experience, honoring each individual's view as well as that of the collective whole.

"It's a joyful experience for me to curate connections between photographs, pulling out what are sometimes obvious, sometimes hidden, and sometimes even humorous, parallels between pictures," said Belz. "Indeed, in this installation each photographer presents a Unique View and a meaningful contribution to this collective public art project," she added.

This project has a companion website, www.BostonCameraClub.photos, featuring creative contributions from community groups from across the greater Boston area, including: Actors' Shakespeare Project; Boston Latin Academy Photography Club; Boston Latin Academy 7th Grade English Language Arts class; Mission Hill Women's Writing Group; Never Too Late to be a Poet; Rehearsal for Life; and Zumix. Participants from these organizations contributed poems, prose, audio, video, and artwork in response to the exhibition's photographs. All viewers of the banner and website are encouraged to share their own reactions on social media using the hashtag #BCCPHOTOBANNER.

"The community partner collaborations enhance the viewing of the individual images as does the professional sequencing of photographs on the banner," said Boston Camera Club President Tom Hill, who noted that the project was entirely conceived and developed by club members. "Collaboration with these community groups has built bridges among artists of all ages who would not otherwise have had opportunities to connect within the greater-Boston community. The timing of the exhibition could not be better and will supplement the diversity of outdoor art in Boston at a time when residents, workers, and visitors are breaking out of their pandemic cocoons."

The Focused Eye: Our Unique Views is generously funded by Tufts Medical Center, Blue Hour Photo Ventures and two anonymous gifts. The Boston Camera Club is especially thankful to the owners of Fan Pier for warmly welcoming the photo exhibition to the Public Green.