The Boston Globe Features BCC's Photo Banner Exhibition at Fan Pier

Thank you to The Boston Globe reporter, Riana Buchman, for a terrific story on the Boston Camera Club's outdoor exhibition featured in the Art section of The Boston Globe on July 16th, "Boston Camera Club unspools its art along Fan Pier."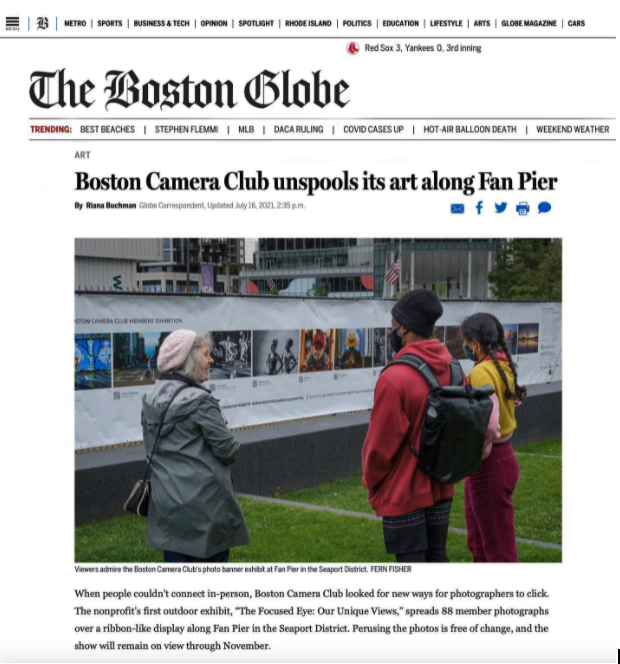 The article describes how "exhibit curator Emily Belz took extra care to sequence it all according to shape, color, or subject matter, finding a way to link one image to the next."

Highlighted in the story is the special 30-minute documentary on the year-long banner project by the Boston Neighborhood Network's "Around Town" that can be viewed online at guide.bnntv.org.

Noting that the BCC worked with several community partners as part of the exhibition, the Globe piece explains that "individuals from Actors' Shakespeare Project, Boston Latin Academy, and Mission Hill Women's Writing Group, among others, produced responses including poems, prose, and video. Visitors can access them by scanning the exhibit's various QR codes, located under each photo." These creative contributions, along with artist statements by the participating photographers, can be viewed on the dedicated exhibition website at www.bostoncameraclub.photos.

The Focused Eye: Our Unique Views will remain on view and open to the public free of charge on the Public Green at Fan Pier, located at the intersection of Northern Ave. & Marina Park Dr., in Boston's Seaport District through November 2021. Viewers are encouraged to share their reactions on social media using the hashtag #BCCPHOTOBANNER.

Read the full article on The Boston Globe's website.